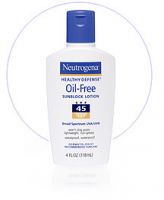 Absolutely Outstanding Sunscreen!!!!!

This sunscreen is absolutely outstanding. It is inexpensive and superior to most other sunscreens including very high priced ones. This product has effective broad range sun protection and antioxidants which is scientifically proven to increase its effectiveness. It has mutiple spf value does not cause acne or irritation on super sensitive, allergy prone skin (mine) and works wonderfully on chi...read moreldren. This product does contain a very minimal amount of fragrance at the very end of the ingredient list which has a barely detectable creamsicle smell. This product also is great for because you do not smell like you have been at the beach when you wear it daily (like to work). Because of the nature of effective ingredients to make it good for sensitive skin, it has a slight white cast which is not detectable on my skin, but may be on darker skin tones.

Made Me Look Too Shiny

I LOVE Neutrogena but they disappointed me with this product. When i put this sunblock onto my face, it made me look really shiney. I don't wear any makeup so i have nothing to cover up the shininess. Also, my face is a little on the dry side so i was expecting an almost matte like finish. I'm also not crazy about the smell either. Maybe its just my skin, but I don't recommend this product to those who won't wear makeup on top of it or else your face will look like an oil slick.

Didn't Blend Well

I purchased this sunblock two summers ago. I was highly disappointed, as it left a strange "residue" that did not soak into my bronze complexion. Alas, I ended up wasting money on a product that was not useful.

Back
to top