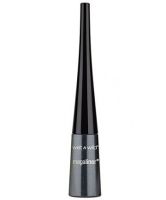 Amazing Results!

These come in playful, vivid colors, from indigo to turquoise and black with sparkles. I think the very thin applicator gives you maximum control over creating anything from a fine line to a wide cat eye!

Awful!

What is this??? Seriously I can't believe I actually trusted this to be a good liquid liner, the applicator sucks! It's terrible and impossible to line the eye with, the little brush that should be easy to apply the liner with is so flimsy it goes everywhere, and it's like trying to make a good line with a piece of hair! This stuff dries out so quickly on the brush it takes for ever to get your liner done. Worthless, save your money.

Ehhh.....

Love how this is truly waterproof for those summer months but this liquid eyeliner takes forever just to dry. It's also super runny. I have to keep my eyes open while applying this or else it will smear on my bottom lashes. And it's a pain to take off--even with eye makeup remover. The applicator is really stiff and makes it hard to create a good winged liner. Might probably like this better if the product dried fast enough so it doesn't transfer on my undereye area.

Back
to top