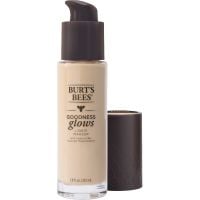 Burt's Bees Goodness Glows Full Coverage Liquid Makeup
Lovely & Lightweight

This is such a pretty, glow-y foundation. It's superlight but provides surprisingly solid medium coverage -- perfect for covering redness. I have dry skin so I find it adds just enough dewiness to keep me looking youthful. It's easy to apply and stays put most of the day. I do wear a primer every day, regardless of what foundation I'm using.

Glowy Finish

I was really like this formula -- the glowy luminous finish was nice, and the coverage was pretty decent as well. Subtracting a star for the fact that I think it might have caused a minor breakout -- though I can't blame it too much though, since I break out at the drop of a hat.