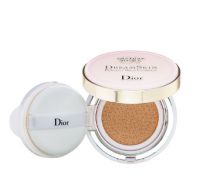 Dior Capture Totale Dreamskin Perfect Skin Cushion
Dior capture totale Dreamskin cushion

This is a very good sheer foundation, when you aplly it you Will think o no iT is not matte as promised, Well wait and see after appling About 15 min iT becomes matte and stays Well the whole day, you do not have to any retouches during the whole day. I also remakered that the langer i use iT the better my skin is getting. So iT is doping everything as promesed. As the prise you get a refill in the same package so the prise is not expensive once you know that.