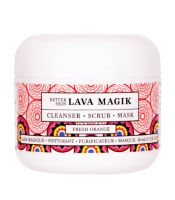 Better Skin Lava Magik
Leaves Skin Smooth (But Maybe Too Abrasive for Sensitive Skin)

I used this product as an exfoliator, though it can also be used as a mask. As a scrub, it definitely got the job done. It has a dense concentration of exfoliants, so you really feel like you're sloughing off dead skin as you use it. Afterward, my skin felt noticeably softer. I really like the brand's story and the ingredients. However, I know this product is advertised as being good for rosacea a...read morend eczema, but I feel as though this might be a little abrasive for sensitive skin types. My only other quibble: I got a particle in my eye twice when I used this, which seems like it could be a coincidence, but it's something that never happens with my other scrubs (so proceed with care!).

Back
to top