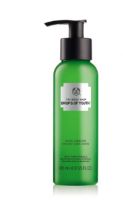 The Body Shop Drops of Youth Youth Liquid Peel
So satisfying!

I loved this product! You pump it onto your hands,rub it onto your face and watch dead skin cells and makeup ball up to reveal smooth, exfoliated skin. This is something I could see myelf using several times a week because my face feels so clean and glowy afterwards.

Such Smooth Skin

This left my skin SO SMOOTH. Seriously, it felt amazing after use. I've never tried a product like this before, so it was a cool experience. I love that I can see the dead skin cells being removed and it really leaves your face feeling fresh and clean. The only thing? You do not want to use this if you are hungover or at all sensitive to an overpowering smell of alcohol. Seriously, it's so strong.

Next Level Exfoliation

I didn't dawn on me how amazing this product was until I read some of the other consumer reviews on the Body Shop website. The label says "peel," and they mean it! When you rub in the gel it creates "clumps," which I think might be your dead skin exfoliating, therefore, it works amazingly well if you have dry patches that need turnover. After rinsing off, skin felt ultra clean and radiant. Definitely plan to use this regularly & repurchase!

Back
to top