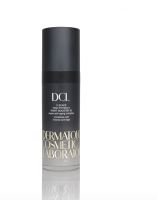 DCL Beauty C-Scape High Potency Night Booster 30
Superpotent Vitamin C Serum

Is it wrong that I rate a vitamin C's efficacy by whether it tingles or not? This serum would have gotten five stars from me if it weren't for the sputtering pump that seems like it's going to go any second. I think the problem is that this serum has a slightly gritty texture, which is mucking up the pump mechanism. At any rate, this 30% concentration of vitamin C feels superpotent and I'll keep u...read moresing it as long as it lasts. Though this says its not for extremely sensitive skin, my skin can tolerate it. It has moisturizers in it like squalane that keep me from drying out.

Good product, but too oily

My biggest complaint about this product is how oily it is. I already have semi-oily skin to begin with, but after even just a small dab of use, my skin is even oilier when I wake up in the morning. Overall, this product did help firm up my problem areas a bit; however, I was not thrilled with the oily component of the product.

Back
to top