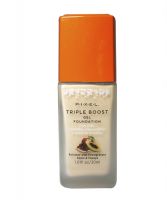 Pixel Cosmetics Triple Boost Gel Foundation
Under-the-radar great foundation!

Wow, I love this! Formula goes on light and very blendable. It has a faint fruity smell and excellent coverage. Lasted all day -- i even wore it to a wedding and was complimented on my skin. It doesn't appear to clog my pores either. This drugstore brand is really standout for me. Most of their products are about $6 a piece.

Full Coverage Foundation

For a drugstore foundation, this had great coverage. It has a thicker consistency and masks any blemishes or imperfections you might be sporting on your face. It doesn't suffocate your skin either, despite its full coverage. The finish was a bit cakey on me though.