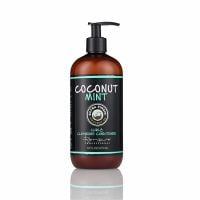 Renpure Coconut Mint Curly Cleansing Conditioner
As low as
Nice, cooling tingly sensation...

This product had a nice, cooling tingly sensation upon application which is probably because there is mint in it. It does not lather but goes on smoothly. Doesn't really smell like coconut (more like mint), but I loved that my wavy/curly hair felt light, shiny, and frizz-free after washing. Plus, it only cost about $10 -- would definitely recommend.

Minty fresh and moisturizing on curls

This is a semi-lightweight conditioner that smells mildly minty. Don't let the consistency fool you though. This conditioner was super hydrating on my curls, leaving them extremely soft and shiny post-shower. The mint and coconut oil work well together to give your scalp just a little bit of a tingling sensation, while moisturizing curls.

Back
to top