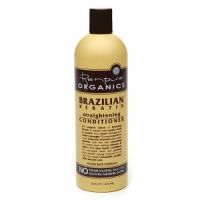 Amazing conditioner

I am 40 with long dark hair. Very dry and stringy. I Have tried lots and lots of conditioners with zero results in the product penetrating and moisturizing my hair. This one is amazing. Purchased a small bottle while on vacation in Rhode Island. After the first week my hair looks and feels like a whole new head of hair! I will be calling my sister in RI to go buy more love this product.

I love this stuff

When I wear my hair natural (curly), this conditioner makes my curls full and doesn't weigh them down. When I wear it straightened, the keratin helps keep my hair strengthened and makes it less prone to breakage. Over time other conditioners weigh my hair down and don't provide enough keratin, but this conditioner is perfect.

Awesome

I got a Keratin treatment on my hair which has been amazing. The only downside is that once I got it, I found out that I can only use sulfate, and sodium free shampoos and conditioners. I bought the shampoo and conditioner set that the salon had in stock for a total of 40 dollars. I run out of it quite often because I have thick hair, and have ended up forking over around 40 every month. Both the ...read moreshampoo and conditioner of this are a solution if not an improvement. The bottles are bigger, and they are only 6 dollars each. They also work FAR better and don't just maintain the keratin in my hair, but add to it. Plus, it smells amazing, and it's organic! I would definitely recommend this to anyone, even if they don't have a keratin treatment.

Back
to top