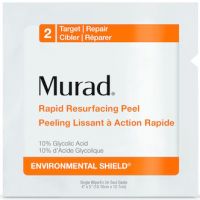 Murad Rapid Resurfacing Peel
As low as
Overnight miracle worker

I used this on my husband's nose after he got a little too overzealous with the tweezers. The next morning, the red mark was significantly reduced to almost nothing and his neglected, overstuffed pores were invisible. Even he was impressed.

At-home skin care that feels professional

The ingredients seem effective, and I think it's a good alternative to paying a facialist $35 bucks for a glycolic peel add-on.

Back
to top