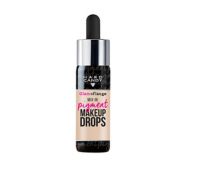 Hard Candy Glamoflauge Mix-In Pigment Makeup Drops
Amazing Drugstore Foundation

Whoa. This is crazy good for a drugstore foundation. I use these straight rather than mixing them. One drop (or maybe a drop and a half) goes a long way to provide gorgeous full, but not flat, coverage. My skin looked great and held up all day. One con: The dropper is quite messy to use.

Awesome Cover FX Dupe

Wow, I am so impressed with these makeup drops. I usually add a couple of drops straight to my face -- it gives me amazing, natural-looking medium coverage. I love that you can add it to your primer or moisturizer for a lightweight tint, or use it to lighten/darken other not-quite-right foundations. The only thing that's tough with this product is the dropper. These drops are so liquidy that they ...read morefall off the dropper as soon as you take it out of the bottle, making for a messy counter if you don't act fast. But for the price, I can handle that slight hassle.