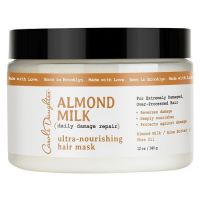 Carol's Daughter Almond Milk Ultra-Nourishing Hair Mask
As low as
Softens Dry Strands and Smells Delicious

I'm so sad. The first time I used this, I managed to drop it on the floor of my tub, which meant most of it spilled out, while a lot of water got in, so I can't really use it again. However, the one time I used this was enough to convince me that this is a really solid mask. It softened my dry hair in a way that lasted long after I applied it. And I love the smell -- it's almond-y but not sweet. There are slight notes of Play-doh, but not in an unpleasant way.

Deliciously Scented, Smooth Strands

The bold scent smells like an almond cookie on your head, without being cloying or over-the-top. It soaks right into your hair, leaving it soft, without weighing it down or leaving it greasy feeling. The result is soft, hydrated strands that look healthy nourished.

SuperSoft Hair

Carol's Daughter delivering again on the hair mask front. This creamy hair mask soaks into dry strands with ease, and instantly hydrates dry hair, adds shine and leaves hair supersoft. I left it on for the required seven minutes, but I'd be willing to bet money it would be even more hydrating if left on for longer. Love this.

Back
to top