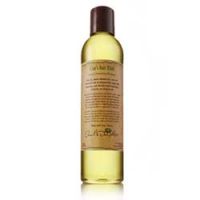 Lustrous Hair

I use this about three times a week before I take a shower. I smooth it on my hair and leave it on for about 10 minutes max. Otherwise, it will leave my hair oily, no matter what I try to do. When I do shampoo it out right away, it gives my hair some fullness and I am able to keep volume in my hair. Without it, my hair would fall flat within an hour. The eight stars is because the directions don't really give directions. All it says is smooth on hair you're good to go.

Not Sure

I recently purchased this along with the balm since I've heard so much about this brand. After I blowdry & style my hair, I put a small amount (tiny) in my hands, rub them together & put it on my ends. It is very oily so a little goes a long way for me. The scent is very refreshing but I have to say I am not noticing much difference. I was hoping it would tame my crazy frizz. I normally use a...read morergan oil & that seems to have a much better effect & absorbs better. I still want to try it as a hot oil treatment though. Maybe that will convince me I made a good purchase. But as of right now, the jury is still out.

I love it

When used as directed (before washing, not after, as I've noticed some other reviewers do) it helps me tame my newgrowth when it's almost time for a new relaxer. The smell is a bit strong, and it is messy to use because it's oil, but it leaves the natural part of my hair softer and stronger and by the time I'm done shampooing and conditioning the smell isn't even noticeable anymore. It's also good as a cuticle oil because it's so lightweight.

Back
to top