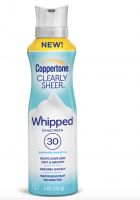 COPPERTONE® CLEARLYSheer® Whipped Sunscreens
A drugstore sunscreen to get excited about!

WOW! I never thought I would have such a strong option about a drugstore sunscreen, but this stuff is pretty awesome. The "whipped" texture makes it much easier to apply than regular sunscreen lotion and it absorbs faster also. It still smells sunscreen-y, but the scent is much lighter than that of normal sunscreen lotion. If you're in a pinch and need to grab a sunscreen at the convenience store, this is hands down the one to get!

Back
to top