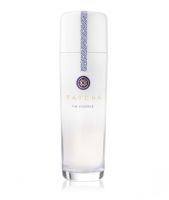 Helps Hydrate Skin

This formula seems different than other essences I've tried. When you pour it into your hand, yo can see that it has a little more viscosity, which maybe explains why it feels so hydrating. It's also easy to use: A little goes a long way, and there aren't any distracting scents.

Leaves my skin plump and dewy

Of all the essences I've tried, this one stands out the most to me. Whereas others leave my skin feeling slightly more hydrated for a minute or two, this one makes my skin feel plumper and softer for more than just a few minutes.

Luxurious, but not a necessity

I am still trying to understand the appeal of essences. This definitely felt like one of the luxurious final steps in a facial, it didn't seem like something I would necessarily incorporate into my daily routine. It was super hydrating and plumping, but it left a stickiness to my skin that I could only tolerate at bedtime. There is no way I could apply makeup over something like this -- it would not adhere with my oily skin.

Back
to top