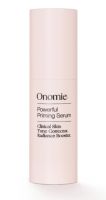 Onomie Powerful Lifting Serum
Good-for-Skin Primer

I think I'd rate this more favorably as a primer than a serum. As a serum, it's got lots of good-for-skin ingredients (I have yet to use it long enough to see long-term results), but I don't know if it's the cream of the crop compared to other high-tech serums. As a primer though, this is a little cooler, because I like the idea of priming your skin that is so good for it, and is also gonna help keep your makeup on fleek. Overall, cool two-in-one product.

Back
to top