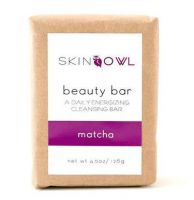 Skin Owl Matcha Beauty Bar
Thoroughly cleansing but leaves a strange bar soap texture

The ingredient list is great, and one you figure out how to be neat about using the bar it actually does thoroughly rid your face of dirt, oil, and makeup. However, I quickly found that it left my face that rubbery texture of using bar hand soap. It wasn't drying and t's not a bad product, but it's also not my cup of tea.

Back
to top