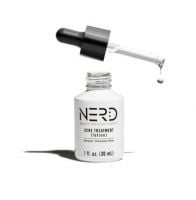 Nerd Acne Treatment Lotion
Gentle Acne-Fighter

This reminded me a bit of Dermalogica's Breakout Control, which is also free of benzoyl peroxide and salicylic acid and has been my go-to acne-fighter. I appreciated how it didn't irritate my skin at all, and it did seem to help clear up my breakouts.

Kinder way to treat acne

Welcome to a gentler effective way of treating acne. I don't suffer from a ton of breakouts, but I did have a couple of stubborn blemishes that cleared up quickly after using this for a couple of days. Irritation free.

Back
to top