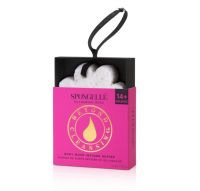 Spongelle Body Wash Infused Buffer
Lasts a long time and smells a-mazing

I got several of these for stocking stuffers in 2016, and now that the recipients need replacements, I'm getting bombarded with them asking where I got them. These cost more than the Spongeables version, but wow, talk about a difference in quality. These leave your skin much, much more moisturized. I and a couple of the others that got these suffer from horrible dry skin in the winter. If you li...read moreke the new in-shower moisturizers, then you will like this. Even though it cleans and exfoliates, it leaves your skin feeling surprisingly soft after you dry off. If you have super dry skin, you still might need to apply lotion later on, but at least for a few hours after you shower your skin will be smooth and soft. This also works great for shaving. The scent of these is milder and more perfume-like and lingers on your skin compared to the stronger scent of the Spongeables. You can skip perfume on the days you use this. Several of the recipients told me that they got multiple compliments on their new "perfume" when they started using their gift. The best part about these is that they last about a month with every day use. Even after that long there is still some product left in the sponge, though as you use it the softening aspect fades and you need to go back to using lotion after bathing. This happened around the start of the third week for me. I suppose you could keep the sponge and keep using it with other soap as long as you disinfect it every month like they tell you to with loofahs and bath poofs. If you ever need something to cut down your shower/lotion time so you can hit the snooze bar, this is it. These also make well received gifts. They are pricier than the Spongeables, but you really do get a much better quality item.

Back
to top