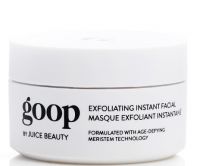 Goop by Juice Beauty Exfoliating Instant Facial
Not for sensitive skin

Pros: Quick enough to use in the morning. Left my skin really soft and exfoliated. Cons: Not for sensitive skin. My face turned bright red and felt like I had the worst sunburn of my life. It took a few hours for the redness to go away.

Smoothing, but at what cost

This irritated my face almost immediately and left it red and tingly for a good hour. However, once the redness subsided, my skin was so soft and smooth. It's definitely not for those with sensitive skin.

Back
to top