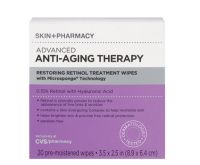 Skin + Pharmacy Anti-Aging Therapy Retinol Wipes
Winner of the Skin + Pharmacy line

I have tried several Skin + Pharmacy (CVS's new skincare line) products, and for me, these anti-aging retinol wipes are the clear winner. Rub them on your face and neck at night before bed a couple times a week and in the morning wake up to clearer, brighter and more even skin. The best part is that a box of 20 wipes is only $20 ($1 per amazing wipe!). Highly recommended.

Back
to top