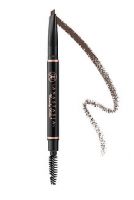 Anastasia Beverly Hills Brow Definer
Good as you'd expect from Anastasia

This is a supersharp pencil with a unique triangular tip that draws very precise lines. I do fear, though, that it's going to crumble and not work as well once the edges start to wear down. Time will tell, but others I've had in this shape have had the same issue.

Brows that wow!

I like the slanted tip of this brush and the creamy formula. It's easy to apply, looks natural and the spoolie helps brush out any weird lines. Good color selection as well.

Great Brow Pencil!

Good color, good application, fat spoolie (that's a good thing). As someone who has slightly thicker eyebrows, I appreciate the bigger spoolie and this this baby filled in all my sparse spots without any struggles.