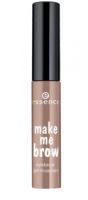 Essence Make Me Brow Eyebrow Gel Mascara
As low as
Great tinted brow gel! Very comparable to Benefit's "Give Me Brows".

I picked this up a couple of weeks ago, and I do like this eyebrow gel. It is very comparable to Benefit's "Give Me Brow". The color of this one (I took the darker one of the two colors available, "Browny Brows") is slightly darker than the Benefit's Medium Deep, but they perform in a very similar way and both are cool toned browns. If you need to outline the shape of your brows (as o...read morepposed to just filling them in), this wouldn't really work, but for filling in this gel work really well. The brush is slightly harder and bigger than the Benefit's one, but it's still small enough for you to be able to work with it quite comfortably. I personally prefer to use my liner brush with shadow first, because I need to correct the shape of my brows before filling them in. So after doing that, I use this gel to make my eyebrows look fuller and more natural. It adds volume and defines and separates each hair, so my brows look more natural than just with the shadow alone. This gel takes about 5 minutes to fully set and when set, passing your finger over your brows (without pressing excessively) will not remove any of the product. It kind of acts like a stain/tint, but at the same time it comes off very easily with a makeup remover or a cleansing soap. There is no flakiness of any kind throughout the day. The scent is very light and definitely non-offensive in any way. To me, it smells a bit like scotch tape, which I don't consider to be an unpleasant scent. Also, I think it's amazing that we get .8 ml more product here than we do with Benefit's "Give me Brows", which is almost 30% more. And if anyone wants to know, this brow get is made in Italy. Would definitely recommend to anyone, looking for a tinted brow gel.

I'm an eyebrow gal, and I love this!

I've always been curious to try brow gels and so when I got this as a sample I was stoked! After filing my sparse brows I used the wand on my brows and it was a miracle! I was worried that brow gel was going to be to heavy or to tinted, but this product was great and I would definitely recommend this to anyone who is looking to change up their brow routine.