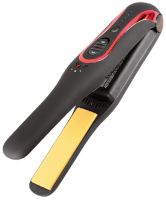 CHI Escape Hairstyling Iron
Great for Curls on the Go

Squee! So tiny. I would recommend this to anyone who 1) travels a lot and 2) has short/not too thick hair. Coming off of using a regular curling iron, I felt like this took some getting used to, and the curls were scrawnier than what a full-size iron does for me. But I can't overlook the convenience of this product. It's small enough that it can be stashed in a carryon (or a purse, for that matter...read more), it comes with its own carrying case and car-charger, and it's cordless, so you can use it anywhere.