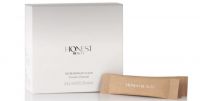 Honest Beauty Powder Cleanser
Amazingly soft, bright skin

So, I really love this cleanser -- rich, foaming lather that gets my face so bright and clean without stripping it. Even takes off all of my makeup. The individually wrapped packets are great for travel. But $22 for 30 packets? If you use it twice a day that's $44/month. I feel like I could get two uses out of each packet. Still, it's a really nice, comforting and luxurious feeling face wash. Dig it.

Back
to top