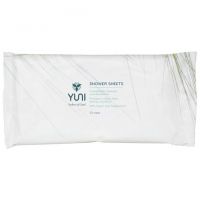 Yuni Shower Sheets
Middle of the day workout must-have

I love these! They're so handy for the on-the-go woman. I smell like Aveda with absolutely NO hint of my midday workout sweating, and I FEEL fresh when I'm done using them. I will continue to buy these!

Not Revolutionary

I feel like this product is just baby wipes re-marketed in a clever way (and with a more adult--friendly scent). Does it work? Sure. But at $12 for 20 wipes, I'd probably stick with baby wipes for my next camping trip.

Back
to top