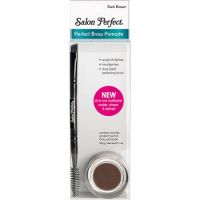 Salon Perfect Perfect Brow Pomade
As low as
Pencil vs. Pomade

My go-to brow routine is pencil. I picked up this pomade to try something new. I've learned I'm definitely a pencil person. I wasn't able to get the precision I prefer with the pomade and brush. I had to be very careful to use a light hand. The look came out polished, but it took me longer than my standard routine.

Love this brow product!

I am a huge fan of brow products and am always willing to experiment - this one is awesome! It comes with a dual-sided brush, one for combing the brow and one for application of the "Pomade." The one thing I will caution against is using too much at once. You only need VERY little product to make a big impact. This jar will probably last me more than a year, It's for a more experience make-up user, which is why I only gave it 9 stars, not 10.