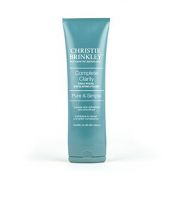 Complete Clarity Daily Facial Exfoliating Polish
As low as
skin feels super smooth

i like how tiny/fine the granules are in this exfoliating polish. my skin feels a lot smoother after using it, although i've used other (cheaper) exfoliating polishes that have the same effect as well so it was nothing EXTREMELY special. i don't think i'd go out of my way to purchase this, but i did like it a lot. another plus was that my skin didn't dry out, which is something i experienced with other exfoliating polishes.

Great daily exfoliator

When I first applied this product to my face, my initial thought was that it wouldn't work well because I didn't feel enough "micro-beads". I mean, how could effective could it be when it's too rich and creamy, and sans the grainy beads? I was proven wrong after I towel dried my face. The surface of my skin appeared smooth and radiant and my dry spots were buffered away. It's great that it's gentl...read moree enough for daily use. I'm not too crazy about the scent though...reminds me of dried fruit.

Back
to top