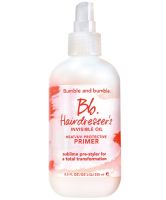 Bumble and Bumble Hairdresser's Invisible Oil Heat/UV Protective Primer
As low as
Great hair oil!

I have very thick and voluminous wavy Asian hair that gets quiet puffy after I wash my hair and I usually run it through with a straightener so it's more manageable. I apply a dime size amount for the bottom half of my hair after I towel dry. This hair oil reduces the frizziness and leaves my hair very soft and smooth. It is lightweight and doesn't make my hair greasy. It makes my hair more easily managed in the morning and definitely saves me some time with straightening!

Holy Grail

This stuff is magic in a bottle! It smells amazing, really hydrates and detangles the hair but doesnt weight it down

Ten Stars!!

This stuff is a magical elixir. I've used about 6 bottles so I feel qualified to do this review. It hydrates, makes hair manageable, increases the effectiveness of styling products, speeds blowdry time, provides thermal protection, adds shine and totally eliminates frizz (even in the Florida humidity!!). This is a HG product for me. I use it on damp clean hair from roots to ends and then apply...read more my styling products. I then let my hair air dry overnight. In the morning I use a curling iron to create loose waves. My hair is shiny and soft and it holds the curl all day, although I can't feel any product in my hair at all. This primer makes my hair look unbelievably healthy. My hair is also color treated and when I use this, the color absolutely glows. There's simply nothing else like it! This primer is also very lightweight, and doesn't weigh my hair down at all or make it look greasy. When I use the curling iron, I get no breakage or dryness even when I use the high heat setting, sure signs the thermal protection is working. This primer makes my hair look like it would if I never colored or heat styled. It's simply AMAZEBALLS!! I definitely recommend it for all hair types, even fine hair. It will change your life!!

Back
to top