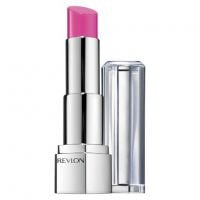 Revlon Ultra HD Lipstick
As low as
Really creamy and smooth....

Don't know what makes these "HD." Might just be for branding purposes. This lipstick didn't leave me too impressed when I first used it but after using it for a while now I love the way that it feels on my lips. I got this in the shade Magnolia since it looked like a color that wouldn't be too bright but looks like a perfect brown coral nude. These lipsticks aren't really pigmented but it's not to...read moreo sheer either. I like how it doesn't apply patchy. It stays moisturizing for a good hour or so but leaves my lips dry once it rubs off. There's a good slip to it but I wish the texture was more cushiony. Just feels like oil on my lips. This has a cherry smell to it that smells kind of medicinal like Children's Tylenol but the smell doesn't bother me. This tastes really sweet so if you don't like sweet or cherry smelling lipsticks, these aren't for you.

Creamy

Wow this formula is creamy -- I can definitely see the appeal for this lipstick (which really wears more like a hyper-pigmented lip balm). The taste is nice too. However, it does not live up to its claims of delivering HD color in one swipe. It took some doing to get an even later, and it does wear off fast.

Gladiolus

Revlon Ultra HD Lipstick in the color Galdioulus is a decent quality lipstick. The shades in the NEW HD are very vibrant. It is very true to color (what you see is what you get). Revlon HD Lipstick kept my lips somewhat hydrated the first few hours of wearing it. Its not one of those lipsticks that you have to keep reapplying and one coat is all you will need. The only downfall is that after about...read more three hours my lips felt very dry. The color does last several hours and does stain a little. 20 shades are available in this particular type. I was not crazy about my color after I applied it. Overall it held out to its color technology, wears longer than a lot of other lipsticks, has a very light sweet smell, is wax free, the lipstick tube is also pretty, and is perfect for the summer time shades that most look for.

Back
to top