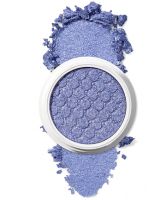 ColourPop Super Shock Shadow
As low as
So creamy

ColourPop Super Shock Pigment in Mooning is totally my go-to: whenever I'm in a hurry, I just swipe it across my lids, and I'm done — it's so easy to blend with your fingers. The color payoff is excellent, as is the wear-time and shade selection.

I LOVE THIS EYESHADOWS

I didn't rate it with 10 points because there are some of them that haven't accomplished the high standard quality that they achieve (like I Heart This (please don't hate me) that I find it very glittery (not metallic). And they have such a different texture (like Dream Bouncy from Maybelline, but a little bit more liquidly) and such an amazing pigmentation (like their Ultra-Metallic ones). Can't ...read moreforgot to mention the color range, their collabs (love Kathleenlights) and their packaging. And I have a really good shipping experience, It last only 2 business day, but the only thing was that It has so many fragile marks that they didn't leave it in my mail box (I had it to pick it up in the post office). But an overall opinion would be; they are fantastic for the price!!! JUST FIVE BUCKS EACH!!!

Really poor customer service

I decided to purchase #ColourPop products because my favorite makeup artist, #DesiPerkins, used their products in several of her videos. I made one really large order, just shy of $80, to try a bunch of shadows. The shipment took a little while to get to me, but I loved the products so it was worth it. The next month, I got my paycheck, and all I could think about was getting another shipment of ...read moreColourPop products to try. I purchased about $80 worth of blushes, highlights, liquid lipsticks, and lippy sticks. (And, honestly, I probably would've made this kind of spending a habit until I had every... single... product.) When my order came in, I ripped through the box, saw my lippy sticks and immediately started trying them on. I like to try my cosmetics on one-by-one, as I get them out of the box, it's just my routine when I purchase cosmetic products. Probably some weird habit I retained from Christmas when I was little. As I am pulling things out, I realize that there are eyeliners in my purchase. Since I didn't purchase any eyeliners I was really confused. I thought, maybe because I spent so much money with ColourPop, they threw in a few eyeliners as a thank you/value add. I was wrong. There was an invoice tucked in my box that was for another woman, Tina Evans. I immediately, and politely, emailed the company to let them know they had mixed up our orders. I'm sure Tina was not very excited when she got a bunch of blushes, when she meant to get a bunch of lippy sticks... Customer service from ColourPop emailed me back and asked for me to send a picture of the invoice in my box and, randomly, a picture of all of the products I received. I thought that was a very strange request, to take a picture of the products I received, but I did it anyway because I figured they wanted to make sure I wasn't lying about not receiving my original order, in the first place. I sent them the pictures, and again, politely asked when I could expect my correct shipment; the payment of which was already sitting on my credit card. The response was, can you please ship back the products that were incorrectly sent to you? Ummm... what?! Your team made a shipping error. And you want me, your customer, who has already spent several dollars with you, and for all intensive purposes will probably spend a lot of other dollars with you, to take time out of her day; by the way, which she doesn't even have, as evidenced by her extremely messy apartment; to go to the post office, purchase a box, purchase shipping, all to send back products that she never ordered, to make up for an error your company made? Is this poor customer service or what?! I thought we were living in 2016, but I guess I could be dreaming. When I try to explain this to the customer service representative: that I'm not going to ship these products back because: A) It's a waste of my time, and B) they're just going to throw those products out anyway (because it is ethically and legally wrong not to), her reply is, OK you can keep the products but you're going to have to pay $70. Then she says, "We would gladly reship your items to you." Now I'm getting irate. You never shipped me my items in the first place, so let's be clear, you're not reshipping anything! And now you're giving me an ultimatum? You can either do the work to send these products back, or you're making me pay $70?! And you're not going to ship me the products that I did order, and paid for, in the meantime?! I'm thinking, reason will prevail in this situation, right? Boy was I wrong. I let her know my position. Honestly, if they were so concerned with getting these products back... I don't know, for some weird inventory reason that's outside of my purview, they should have offered to send a courier to pick up the materials and ship them back on ColourPop's dime, not mine. That's what legitimate businesses do when they mess up in this type of situation. I immediately ask for a manager's contact information. (I have been working as a digital consultant for Fortune 100-500 companies the last six years of my life, often helping to enable sales functions and enhancing digital customer service experiences.) And I had a word or two to offer this manager about the way I was being treated. I also requested for my order to be canceled because I had such a poor experience that I no longer wanted to do business with ColourPop. In response to this request, there was not even an ounce of an attempt to make up for my experience and/or retain me as a customer. It must've been a minute after I sent that email when my order was canceled and I received a refund notice. I received no management information, however. Just an additional email explaining my order had been canceled, and that they were sorry I had a poor experience. That's it? Bye-bye to me for life? You don't care that I had a poor experience? You don't care that I will never spend $100 with you, a month, again? I am sorry, but if that was the customer service experience I was allowed to have with ColourPop, something is broken. I have YET to get a manager's contact information... Even after three times of asking for it. I have now become ignored. Also, please tell Lizzie that when her customers are furious, legitimately so, her responses should not be colored with smiley faces... This isn't mean girls.

Back
to top