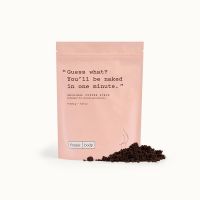 Frank Body Original Coffee Scrub
Best Scrub to get dirty in

This scrub is great and easy to use, but it is messy. Before using this, one has to be sure to put towels down around the shower just in case the scrub gets out everywhere. The process is simple, wet your body (damp) and apply the scrub all over. This particular scrub smells like coffee...so be forewarned, your house will smell like coffee. If you don't like coffee, get a different version of this...read more scrub. After putting it on, you just chill for 10 to 15 min. (You kinda have to stay in the shower to avoid getting this everywhere). Then rinse off and reveal amazingly soft and smooth skin. After several uses, I noticed my scars are fading, my skin is more moisturized, and it's softer to touch. I love this product.

Back
to top