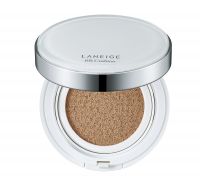 Laneige BB Cushion
As low as
Interesting product.....

They finally have this at Target and I've always wanted to try this after watching Michelle Phan's summer tutorial video. This has an SPF of 50! Wonderful for summer but of course, it leaves a white cast with flash photography. I got this in the color Light and it blends easily into my light Asian skin without making me look too pale. I love how unlike other BB creams I've tried, this is not heavy...read more at all. It's very liquidy, evens out my skin tone, and hydrates my skin well but don't expect this product to cover much redness or imperfections. The only complaint I have about this is that it doesn't have much product when I press the sponge into this and it's pretty pricey too. I have to use a lot of product just to cover up the redness around my nose. I paid $35 for this but was lucky enough to get a promotion with this product--a trial size version of their Multicleanser, Water Sleeping Mask, Water Serum, and the Moisture Cream. I've always wanted to try Korean beauty products and see how they compare to American brands. I'm so happy they finally offer it at Target but this brand is extremely expensive. I don't think I will purchase again just because I can find similar products at the drugstore for a lower price.

Excellent Coverage

I'll admit, I'm not a fan of BB creams in general. Why? Because they're usually light coverage and do very little to hide any blemishes or uneven skin tones in my face. However, I love the idea of the duality of BB creams -- protecting the face while serving as a light foundation. So, I gave this (among a few others) a shot and I was actually really impressed! This is the first BB cream that actu...read moreally provides significant coverage while still feeling light, and it matches my skin color PERFECT. In fact, my boyfriend even commented that I looked tanner after using it. Who doesn't love that?

not too impressed

I was excited to try this because apparently BB cushions are all the rage in America now. This was out first. I finally broke down and bought one. First off, it's expensive- It runs about $35, but you do get a refill because apparently the foundation dries out quickly. It is kind of a weird package..you dip the little sponge applicator into the foundation and wipe it around your face. I found that...read more the color does change after a few hours on your face. I bought the lightest color because I am rather pale and it looked fine going on, but hours later, it was way too dark. It also made me break out horribly which is funny because the coverage is decent..I didn't need very much the first time putting it on..but now my skin is so broken out, I need more way coverage..of something else. It also made my skin very oily after a few hours. If you have sensitive or oily skin, skip this product.