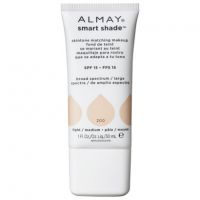 Almay Smart Shade Skintone Matching Makeup
As low as
Enjoy

I don't like the feeling of full/medium coverage foundation so this has been an excellent discovery. It's lightweight and smooth. The smart shade part has shown results on me, even though I know it hasn't for other women. I really enjoy using this when I have to wear foundation.

Almay Skintone Matching Makeup

I'm not entirely convinced about the "skin matching" aspect, however the 200 does fit my skin tone fine. It is nice and sheer, which I love, and it has the added SPF. This is my go-to makeup for a day when I don't want to wear a lot of makeup.