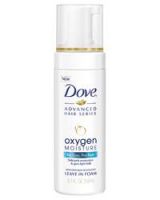 Dove Oxygen Moisture Leave In Foam
As low as
Lighter than mousse, but...

This product is average in my book. I like that the formula feels lighter than Dove mousse (which I love) but it does not shape as nicely. I also didn't like how much of it I had to use -- I have long, curly, but fine hair and I had to use almost 10 pumps to get an even distribution. I especially didn't like using this product on dry hair, despite the fact that the bottle states it can be used on ...read morewet or dry. Applying it to dry hair made my curls feel sticky and frizzy. Unfortunately, I would not recommend nor buy this product.

Worthless and disappointing

Let me start by saying I love Dove. I use Dove body wash and have tried Dove shampoo and condition which all work wonderfully so when trying to find a leave in conditioner (I ruined my hair and read online that leave in conditioner would help) I came across Dove Oxygen Moisture Leave In Foam. Although leave in conditioner isn't in the name moisture is and that is exactly what I needed. It wasn't e...read morexpensive (I think about $5 at the drugstore) so I decided to give it a shot. I put it in after my shower and my hair felt no different so I put more in... still didn't feel different. My hair dried and it was still just as awful as before I tried this product. I thought it might take a few uses or need to be put on dry hair so I decided to try it a few more times. Putting it on dry hair just made my hair look oily but still felt like straw (yeah I know contradictive but I swear that is what happened). I tried it after a few more showers and still nothing. I ended up getting better results from the products I had always used and ended up returning the Dove product and finding a much much better product that worked after one use (Healthy Sexy Hair Leave In Conditioner). The other thing I thought was kind of off about the product is the smell, it didn't have much of a smell. I like subtle yet fresh or fruity scents to my shower products... it makes me feel more clean. I also didn't like the foam concept. It felt like it wasn't distributing evenly into my hair and I felt like I was using a lot more of the product then I would with similar products in a cream. It pains me to say that I don't and wont recommend this to anyone.

Back
to top