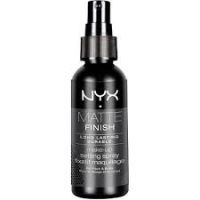 Can't tell the difference....

For a "matte" setting spray, this is anything but. I have oily skin so I bought this for that purpose but it fell short. I don't even feel like this spray left any kind of finish for me. It just felt like I sprayed alcohol on my face since there is alcohol in this. I don't like the smell of this. Of course once it sets into your face, you can't smell it anymore. I'm only using this until it runs o...read moreut but in all honesty, I don't feel like it prolonged my makeup or did anything at all. My bronzer and my blush started to fade even with this on. I've tried other setting sprays before and this one seems to take longer to fully dry.

Did not stay matte

So to preface, I did use this on a really hot day. I applied it right before I went out walking around a zoo in the Texas sun. I had on a tinted BB cream, some setting powder to help keep the oil down, and then the setting spray. After an hour outside, I went back to the car and my face wasn't super oily or anything, but you could definitely tell I had been sweating a bit. My makeup was definitel...read morey not matte anymore, but it was still in place and hadn't melted off so that's a bonus. Still, I'll be checking around to find a better matte setting spray.

If You Want Super Matte, This Is Not The Product.

I really enjoy this finishing spray, it's affordable, unlike many setting sprays that are popular right now. I have combination skin and my my T-zone gets oily during the day, while the rest of my face doesn't. So my makeup usually slides off by the end of the day and creases. This product keeps it in place all day, it doesn't really prolong the wear of my makeup, it just keeps it where it needs t...read moreo be. I use it over an illuminating tinted moisturizer and it doesn't conflict with the dewy look that that product gives my skin, but it just tames the shimmer a bit and gives my skin a glowing, healthy look. Overall, I'm very pleased with this product, it doesn't give a super matte finish which I was pleasantly surprised by and it only takes 2 sprays to cover my face, even though there is a slight chemical smell upon application, but that dissipates quickly. This is definitely a product worth investing in.

Back
to top