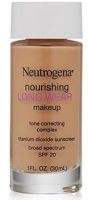 Shockingly Impressed!

I was looking for a replacement to my Armani Luminous Silk (the only 10 star foundation, but very expensive), and tried Estee Lauder Double Wear. Truly disappointed with the Double Wear, cannot find a skin match. My BzzAgent Bzz Kit came in with this foundation and I gave it a go, skeptically, and LOVE it! It matched my skin perfectly (I got the shade Buff, and am NW 22 in MAC). It wears nice...read more, really does last. I can't believe such a lovely foundation is available at such an affordable price. Recommended!

Pleasing results

In winter my skin tends to become more dry and I have to use lots of moisturizer on it. I tried using just the Nourshing Long Wear but it didn't seem to help with the dry patches. The next day I applied my moisturizer first and did not have any issues with the makeup not sticking or staying for long periods of time. I do like how it is easy to apply, covers well, does not streak and is very clo...read morese to my light skin tone. I am surprised at how light weight it feels and seems to balance out my overall tone very well. I was also surprised at how well it matched my skin tone and it doesn't even look like I'm wearing any at all. I also like how it stays on for the duration of the work day and into the evening. It holds up well to raising body temps and doesn't wipe off easily. You can easily eat and drink, wipe your face and never worry about having it be removed. It does not come off in streaks leaving you looked botched from unevenness. After wearing it for a week and a half straight it does seem to help but I still need a bit more moisture this time of year.

Great product for a great price!

Overall, I have been very happy with this product. I found that it really did improve the tone and texture of my skin. Also, the color is a perfect match with my typically hard-to-match skin tone. Finally, this product offers a light but complete coverage - I have lots of small imperfections and blotches on my face, and this makeup is great at evening them out so they're almost unnoticeable. The o...read morenly drawbacks are that the product realistically lasts about eight hours (not 12) and the bottle is a pain because it's not squeezable and doesn't have a pump.