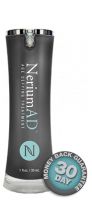 LOVE

This cream is AMAZING!!! The only problem I found was that it is super expensive, and each bottle only lasts about a month. It smells like Cucumber (in my opinion), and once I put it on I could feel it working right away. I have to take a break from it though, as I'm pregnant, and need my doctors approval before continuation of any type of wrinkle cream. But seriously, I would easily pay twice wha...read moret I pay to keep using this cream. They just came out with a day cream also, but I shower at nigh(since I get up @ 5am), so the night cream works better for me.

Love it....

Smells great, gets rid of fine lines and dark spots. Smells great. Expensive and mass marketing. I wish you could just buy it with no strings attached.

THIS PRODUCT DELIVERS SERIOUS RESULTS!!

Nerium AD is the best anti aging product EVER made. It seems to me that some of the reviewers may have not used the product correctly. Because there is no water in the product, which is the most common filler ingredient in almost every product, you MUST apply to a damp/wet face and neck. I have used all 3 (now 4) of their products for 3 years and at 51, my skin looks better than it did in my 30s. ...read moreI love that Nerium is holistic and all natural. It is sold through Nerium independent representatives and the company has a wonderful referral program, refer 3 friends and yours is FREE!! I have never paid for my products since month 2 on Nerium! No other company offers that!! You won't get that deal buying it on Amazon, and I have actually had a few friends who got fake products on Amazon so I wouldn't risk it. Anyway, LOVE all the Nerium products because they WORK! and there's a 30 Day $ back guarantee..BUT NOT if you purchase on Amazon. That is only if you purchase directly from a Nerium rep. (The ad above is misleading) I can recommend one if anyone wants to try it!!

Back
to top