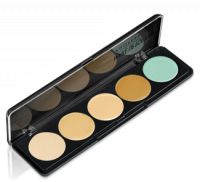 Make Up For Ever 5 Camouflage Cream Palette
As low as
This is a Professional Palette; Make It Work for You!

Make Up For Ever's "Five Camouflage Cream Palette" ($38.00) is probably in every professional's makeup box--now you can own it, too. One shade does not fit all when it comes to disguising under-eye shadows and/or blemishes. Most skins have a yellow undertone. MUFE understands this and offers a variety of shades which work together to match your own skin PERFECTLY. I especially appreciate their add...read moreing green to the "Fair/Light Skin Tone" palette to rid skin of annoying redness. This is for all women; there is a palette for "Light/Medium" and dark skin tones as well. Use with concealer brushes and sponges for a perfect finish.

for the green

This review is for the kit with the green #1. I gave this four lippies because it is great at concealing..which is what it is meant for. I actually bought it because I can't seem to find MUFE's Sculpt Duo for contouring anywhere and I thought maybe this would be just as good for contouring. It really wasn't. The colors are too similar and there is really no contrast for it to serve that purpose. M...read moreaybe it you had both the light #1 and the dark #4. Anyway, as a concealer it blended easily for me (on top of foundation) and seemed to go on much better with a concealer brush instead of my fingers. It didn't settle into fine lines and the lightest shade brightened my eyes up. The green, I used under foundation to cancel out redness and then put the light concealer and foundation over it. Then set with a powder and it stays for around 6 hours. Which is fine for me, as my skin is fairly oily and I can't expect much more. I do recommend this as it has shades that will work when skin warms up in the summer and for when palest in winter.