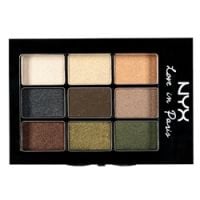 It's ok....

I rate this an A in blendability but the pigmentation is just not there. This is why I stopped buying drugstore eyeshadow. I got this as a sample from Ulta. After packing the color on layer by layer I can't get an opaque color even with eyeshadow primer but this blends beautifully. Almost reminded me of how the Naked palette blends. This would be good for you if you like your eyeshadow to be more ...read moresoft verses intense, but for me I like my eyeshadow to pop. I love the variety of colors they have too. Overall, not a bad palette. Just wouldn't reach for it often because lack of pigmentation.

GET IT

I would definitely give this a 10! It's so much cheaper than urban decay naked palletes but works just as well and has similar colors! I own both urban decay naked and love in Paris and I actually use this one more!!

Parisian Chic

I have the natural/nude/browns palette, and I love it! It's a great dupe for Urban Decay's Naked 2 palette. The pigmentation is awesome, and there is little fall out. It's totally worth the price.

Back
to top