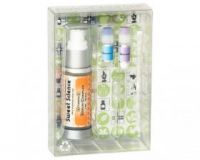 Dried out skin & had a rash

I truly love giving new brands a chance..This is not what it says it is. It dried out my skin & I broke out with a rash. I have never had this issue and I don't have sensitive skin. I did get a refund but decided to get my own testing on this to learn that the products in here are not what the company claims its cheap stuff from China. Pretty sure lots of these other reviews are friends of the owner.

Wow!!

I'm really excited to check this one out all the information here are so amazing..thank you everybody!

Most satisfied I've ever been

Maia's products are fantastic. I am so grateful and relieved to escape the downward spiral of binge spending on overpriced, underwhelming skincare products! I came to Maia desperate for a solution to my ever-increasing problems--breakouts, splotchy redness, blemish scarring, and a general feeling of ickiness. Maia was amazing; I emailed her inquiring about a consultation and she promptly responded...read more, followed up with questions, and advised me accordingly. Her suggested face routine was clear and practical, and she didn't attempt to sell me any product I didn't need. I ordered her vitamin c serum and her night cream, and once I started using them my skin immediately and dramatically improved! My breakout problem evaporated within a week, and my blemishes from previous breakouts also healed rapidly and beautifully. The serum also did wonders for my discoloration issues. I went from loathing my complexion to feeling content with it, for the first time in years!

Back
to top