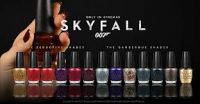 OPI SKYFALL
As low as
Great Collection, 'Skyfall' Shade is Phenomenal

When I heard news of this collection I nearly screamed. I think OPI has a tendency to pick wierd things to model their collections after like 'Modern Family" or "The Office". The Bond movies are so colorful and distinctive they really hit the mark this time. I was so excited to get my hands on them I went to three beauty stores looking for them. My first and best buy from the collection was the go...read morergeous deep crimson, 'Skyfall', it almost appears brown but in the right lights the scarlett hue comes out. It's a durable, long-lasting polish and it was perfect for Winter. Working at a cafe, I'm constantly passing money or drinks back and forth and everyday I'd get compliments on the color. Its a shade you certainly don't see everyday. "Moonraker', a silver metallic and "The Living Daylights" a festive glitter are my other favorites but really all of them were unique. I heard OPI is coming out with a collection inspired by the women of the Bond frnachise as well!

I LOVE this collection!

I was extremely excited when I heard about this collection. I'm a huge Bond fan, and I loved the Skyfall movie! The colors are beautiful. They're mainly reds, blues and golds, and they're all really sophisticated looking. You won't find any bright colors in this collection, but that's not a problem for most people. I have almost the entire collection, and they're of typical amazing OPI quality. Tw...read moreo of my favorites are Skyfall (A muted burgundy-red creme color) and a gold sparkly polish with copper undertones, but I'm in love with the entire collection! I don't yet own the gold topcoat, but that's sure to be one of my next purchases. Good job OPI!

Beautiful colors!

I own the minis collection. The colors were beautiful and very sexy. What else would you expect from a James Bond collection?!

Back
to top