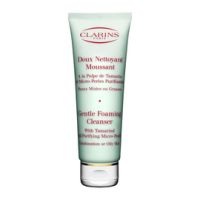 Clarins Gentle Foaming Cleanser with Tamarind
As low as
Star product

This is indeed a star product. The tamarind cream cleanser, gentle enough for problem skin ( breakouts, sensitivity ) and strong enough to leave a perfectly clean skin. It only needs a tiny bit mixed with water and massage on face and it gives an amazing feeling of freshness and cleanness. I find it hard to replace, and find it perfect for getting rid of makeup, without a drying action. It is not...read more moisturising but at the same time you don't feel like all the beneficial oils have been stripped out of your face. This size lasts for months as only a tiny bit us used for each application. I find it works well with Clarins chamomile toner that can follow the foam cleansing and rinsing, to tighten the pores and give a slightly moisturizing effect ( in case of oily skin, one might not even need moisturizer following the toner). I had the same review from people with slightly dry skin, so I believe the tamarind gentle foaming cleanser is an all type cleansing foam. Would love to see it in dose dispensing packaging ( makes it easier to use). Overall a must have product for good gentle in skin cleansing.

Clarin's Cream Cleanser

This is the first product by Clarin's I have ever used. I stopped into a Clarin's counter in Seattle and asked what would be good for my problem skin (cystic acne, dry patches, enlarged pores, weather and climate change for over oil production). I received a sample size of this cleanser and I will proudly say, I will never use any other cleanser again! This product was not only fantastic for my se...read morensitive skin you also only have to use about a pea size amount to get a wondrous foaming action! My pores have shrunk in size, my oil production has calmed down and my acne is also completely gone!! This all in only one week of using??!! Yes sir, I will use this forever!

Back
to top