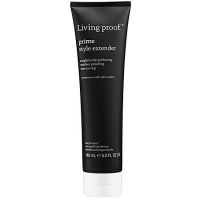 It Works!

This product was used on me at a Blow Dry Bar and I really liked it, but couldn't tell if it was a standout, since my hair was professionally done anyway. I then got a sample of this in Sephora and liked it so much I bought a small bottle. First off, this smells divine. It is fresh and yummy and the scent really lasts on your hair. I can even smell it when I wash it out of my hair in the showe...read morer. This works really well with the other styling products I use when blow drying my hair (Bumble and Bumble Prep and Bumble and Bumble Thickening Spray). It doesn't weigh my hair down at all which is a must since I have very fine hair. Because I have such fine, oil prone hair, my style only really lasts one day. With the help of dry shampoo, I can skip one day in between washes. Now with the Prime Style Extender, I can go one extra day before I have to wash my hair. This is huge! The product claims to combat oil and humidity which I think it effectively does. I live on the coast and the marine layer in the morning can mess up my hair style, but this product has really helped. And the fact that I can go an extra day between washes, shows that it effectively fights oil. This is a wonderful product all around and makes me excited to try more products from Living Proof.

It's ok, but not a miracle-worker

I bought this product due to all the hype behind it at Sephora. I didn't notice too much difference to my hair. It keeps the style in place for the day, but it does not extend past a night of sleeping on it. It has a great smell and keeps my hair shiny and light, but not for more than 12 hours.

It was okay.

I don't think this product lived up to the hype it received. All of my friends told me to try it to keep my hair looking good for a day or 2 after blow drying or straightening it but after the first night my hair was back to being tangled and greasy. I don't like washing my hair too often because I know its bad for my color but my fine hair did not really have any reaction to this product. It seems like just another product to buy that doesn't really do anything.

Back
to top