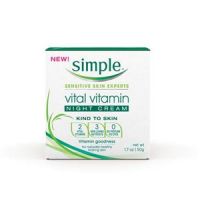 not Olay but still really good

I was using Olay Regenerist night cream, which I really love, but was told our finances could no longer take it so I had to search for another night cream that did not irritate my skin and left me in the morning with a youthful glow. I decided to try the Simple Night Cream which was a lot cheaper than the Olay product and although I didn't think it was as good I still think it was second best a...read morend I will probably purchase it again along with the other Simple products. It soaked into the skin right away and the slightly medicinal scent dissipated almost immediately.

Perfect night cream all the way around!

You will not find a better night cream for the value. I apply this after my retinol treatment, and it works beautifully. It does not absorb well, but I don't really care since it's a night cream, and it's the last thing I put on. I will say, that by morning it's fine, and if I'm in a huge hurry, and need to apply sunscreen and or make up over it (rather than cleanse and exfoliate like I usuall...read morely do), it's not a problem at all. VERY moisturizing, but even though I am extremely acne-prone, it did not break me out (keep in mind I use a retianol before it and clindamycin every morning). I use it around the eyes too without a problem.

Decent, but nothing special

I decided to try this product during the winter time, since my combination skin gets much drier around that time of year. I had heard wonderful things about Simple's skin care products, so I could not wait to try it. However, I feel like this night cream did not do much for my skin. It has a nice, light smell and does feel moisturizing right when I put it on, but I did not feel that the moisturiza...read moretion lasted very long. So overall for me, this was just an okay product that I will most likely not purchase again, but I am still open to trying out other products form this line.

Back
to top