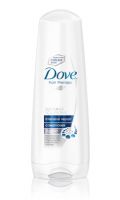 Ok not great

This leaves my hair feeling clean and fresh and smooth after use however it's not great compared to other conditioners I've tried. My hair seems to get greasy a little faster. I usually enjoy Dove products quiet well but definitely not impressed with this one.

Soft, soft, soft!

This conditioner is a beautiful thing. Using Dove for the first time and wow - really nice! This stuff picks up where the shampoo leaves off. Thick and rich, you don't need all that much. It smells fresh and clean and rinses easily, cleanly. My hair is left silky, shiny and isn't weighed down at all. I have noticed that my hair being more silky seems to lead to less breakage - my fingers or the br...read moreush glide through it now, so no more hair-breaking tangles to fight with. Love this stuff and it works for my thin, normal, fairly straight hair. Will buy again!

Backne

This product gave me back-acne all the way down to my butt. I didn't want to believe that it was the conditioner, but as soon as I stopped using it, my back returned to the smooth skin, pimple-free region it was pre-dove conditioner. I'm in my 30s, not a teenager, so I never expected a conditioner could do that to me... but it did. I had to use it a few months after I had stopped as I was out of my other conditioner. One use, and I had a huge pimple on my back soon thereafter.

Back
to top