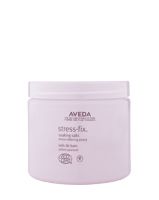 Aveda Stress-Fix Soaking Salts
Disappointing for price

I picked up the small jar of this to try out (which was pretty expensive, as I recall, for the amount of product I was getting). I absolutely LOVE lavender and I have a weak sense of smell, but the fragrance seemed strong enough in the jar, that I really thought it would be worth the money. I have rarely been disappointed by Aveda products, but this is one of them. While the scent seemed plenty st...read morerong in the jar, it became NOTHING in the water. I was hoping to get at least two or three baths out of that one little (pricey) jar of salts, but after putting in half and still picking up little or no lavender scent in my water, I finally added the whole thing. And it still wasn't very strong. Such a disappointment. My tub is not very large or deep by any means, so I don't think it was an issue with not putting enough in. I've gotten a much better scent payoff from many other less expensive products, so I would definitely not buy this again.

The smell is awesome!!

I purchased this when I was pregnant as a little indulgence along with the lotion and roller ball oil. I was very pleased with these bath soaks. The lavender smell is very calming, especially with pregnancy hormones and made bath time ultra relaxing. I put a spoon sized amount in the bath and relaxed! I cannot say enough good things about the smell. It's a very strong, relaxing smell. It does...read moren't sound possible but the smell is so RELAXING. I will be purchasing this again for my back pain and to help me relax again! It is about $50 for the container, but it's worth it! Love this!

Back
to top