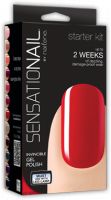 So glad I bought it!!!!

I bought this system in early 2013, with a $15 off coupon. It has saved me a LOT in time, convenience and $. I highly recommend it!!!!

Excited and Hopeful!!!

I JUST bought this gel nail polish starter kit yesterday, and I just can't wait to try it out! I had been wanting to try it out b/c whenever I paint my nails, they are either chipped or smudged in a day, so this is something I am hoping will help and have been wanting to try it out. Walgreens had this item on sale and even further discounted with a coupon (about $65 regular price..$45 after sale/...read morecoupon...!!!), so I jumped on it. The gel nail polishes were on SALE for $10...but with sale/coupon $5, so I bought a few colors while they were on sale. I came home, researched the starter kit (because you can't use them without the LED light) and after seeing the FABULOUS reviews, I BEGGED my husband to let me purchase this while on sale...ya know...cuz it will save him $$ in the long run...*giggle*!! Well, so far I have read through the instructions and it seems like it is very easy to apply! I haven't tried it yet, but I am sooo excited! I came here to read the reviews here...and I couldn't help myself from putting "my two-cents" in...I am just that excited! I will update this as soon as I give it a whirl!!! YAY!!! OKAY today is 6-16-2013...I tried this five days ago...IT STILL LOOKS LIKE I JUST, JUST, JUST DID MY NAILS!! No chips, smudges...NOTHING!! SHINY as HECK!!! SO AWESOME!!! I AM SOOO HAPPY!!! I wish they had a color/top coat that had sparkles/glitter in it (they may have and I just am not aware)! I will N E V E R go back to regular nail polish! It DRIES IMMEDIATELY...no waiting...I LITERALLY cured my nails and as soon as the light went off, I picked up my purse and ran to the car where my husband and son were waiting for me with the car running!!! My nails look like I JUST HAD THEM DONE!!! OMG...SO AWESOME...WORTH EVERY PENNY!!!!! DON'T WAIT...GET THIS NOW!

Secret Sensation!

It seems like nobody knows about this product yet! I love it beyond words. I've been considered the nail-hair-makeup guru in my social circle forever and they all ask about my super shiny lon-wearing nail polish. Dont disown me OPI, but I think I've found a new love...Sensationail gel manicure system. Elle Fowler (youtube guru: AllThatGlitters21) reccommended it.

Back
to top