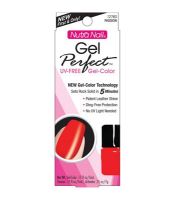 I liked it

I liked it, but I had to follow instructions a little differently. Instead of doing five nails at a time, I did one nail at once, being careful not to put the "activator" on the skin, just the nail area. It worked. The colors are shiny and beautiful, I think. Yes, it is super glue, but that's what makes the color so hard and long lasting. It didn't clump and two thin coats were enough for me. It a...read morelso did dry in five minutes. Careful to not get it on clothes or furniture because not even nail polish remover will work! I also liked that it is formaldehyde and toluene free. I think it was a great item. I liked it, and it did say it was not "nail polish".

I was hoping for better

I bought this product hoping I could avoid getting costly gel manicures. It looked too good to be true. I expected my gel manicure, applied step by step per the directions, to last longer than a day. After a shower and making the kids lunch, every other nail had large chips. I reapplied some Activator and color, and still the nails became chipped after making dinner. I will be taking the color off tomorrow and heading to the nail salon.

Idea good

Loved the idea of this but it just didn't work well for me. If your not fast enough the activator drys and then the color won't dry. Which go course it happened to me. And it becomes tacky. It states you add another coat but then my color was or seem darker on one finger then the others.

Back
to top